Welcome to the Learning Commons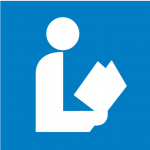 Parental Choice Library Book Restriction Form
Parents may utilize this form to restrict titles their child may check out in the school library. Please complete the form and return it to your child's teacher or librarian.
This form is only required when a parent is seeking to restrict access to materials in the media center.
Our hours: 7:30 am until 2:00 pm M, T, Th, F
Each student may check out two items.
Books are checked out for 2 weeks.
There are book marks available at the Circulation Desk showing the due date. .
Students are responsible for damaged or lost books.
A book may be renewed as long as it is not on hold for another student.
Under Florida law, e-mail addresses are public records. If you do not want your e-mail address released in response to a public records request, do not send electronic mail to this entity. Instead, contact this office by phone or in writing.