News and Events
Nov. 23-25 Thanksgiving Break
Dec. 21 End of Quarter Day
Dec. 22 – Jan 3 Winter Break
Jan. 5 Classes Resume
LANDRUM TEACHER OF THE YEAR, ROOKIE TEACHER OF THE YEAR AND THE SCHOOL-RELATED EMPLOYEE OF THE YEAR

Congratulations to the Landrum Middle School
2022-2023 Teacher of the Year
Mrs. Cynthia Benfield our 2022-2023 
Rookie Teacher of the Year
Mr. Gavin Lambert
School-Related Employee of the Year
Mrs. Diane Melnyk
Calculators
Texas Instruments TI-30Xa
Scientific Calculators will be part of the statewide assessments for all 7th and 8th grade math courses. This is an example of the calculator that will be allowed on the state tests. Other calculators will not be permitted. Cost is about $10. Students are expected to have their own TI-30Xa calculator in class daily.

Schoology Information
Parents,
Landrum has recently begun a pilot program with the Schoology learning management system. Schoology is a secure online program that serves as a central hub for learning. Teachers can create, manage and share information and resources with their students. Students using Schoology can get class assignments, link to readings and guides selected by their teacher, collaborate with classmates, take tests and quizzes, and work on self-paced learning activities. Here at Landrum, all teachers will be posting Daily Board Agendas (DBAs) to ensure all students and parents know what is being taught in the classroom. Parents and students are given login information.
   PTO 
Kristin Glunt,

President

Jen Kaltman,

VP

Allison Kendall & Pamela Riley,

Fundraising

Jim Eddings & Debra Rozen,

Co-Treasurers

Kerry Shewchuk

, Recording Secretary

Caroline Preston

, Internal/External Communication

Anne DeWeese

, Volunteers

Sandra Buss & Annalee Bailey,

Hospitality

 

Danielle Frey & Beth Marino

, Secret Pal

Jonathan Koon, Judy Manley Webmasters
Julia Hightower & Catherine Finnemore,

Membership

 

Lori Shapiro

, Member at Large

Mel Intemann,

Past President
School Hours
Start Time: 7:30
Dismissal: 1:50
Wednesday Dismissal: 12:50

Home Access Center (eSchool Plus+) allows parents to view their child's educational information via a secure, password protected website. Eschool contains vital class information to help students including dates and details of upcoming assignments, projects and test dates. Eschool allows teachers to post files like worksheets, PowerPoints or text files containing important class information. Students will find the information just as important as parents.
HAC information contact Ms. Page [email protected]
Attendance
Any student who has been absent from school shall provide a note from a parent or guardian within forty-eight (48) hours of returning to school stating the cause of the absence. If the student missed school due to an appointment, a note from the provider must be turned in within forty-eight (48) hours of returning to school. Failure to provide a note will result in an automatic unexcused absence. Notes can be turned in at the Front Office or emailed to [email protected]
However, the fact that the student provides a note does not require the school administration to excuse the absence. The principal or designee will decide whether the absence meets the criteria for an excused absence, and that decision will be final. 
After fifteen (15) days of absence, whether excused or unexcused, a student must present verification from a licensed doctor for all subsequent absences due to illness.
Cell Phones
Cell phones must be turned off and put away while on campus. Text messages are strictly prohibited. Landrum Middle School will not investigate nor be held responsible for missing or damaged phones. Violation of this policy is considered defiance and could lead to suspension.
In an effort to provide safety and security to our students and staff, we check identification for all vendors, visitors, volunteers and parents each time you enter the building. Volunteers must have clearance to enter the building. If you have not already been cleared, please submit a School Access Form. Please input full legal name (first, middle and last) on the application. If you already have clearance, please do not submit an application. Expired accounts will be rerun automatically.
"Educational Surrogate Parent Training" on Dec. 6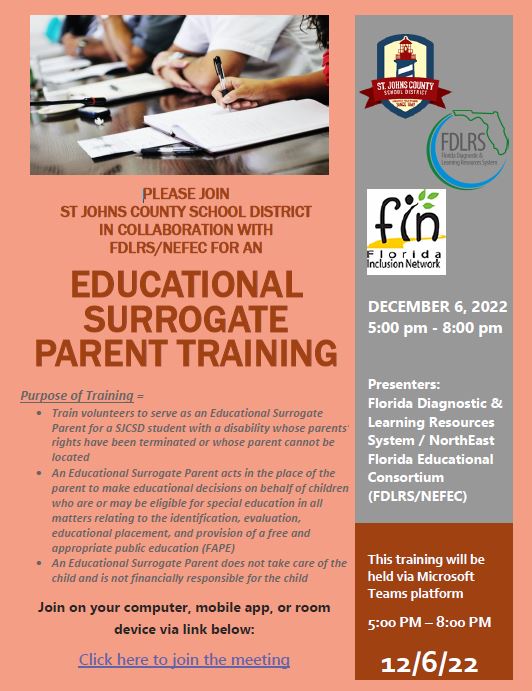 Please join us on Tuesday, December 6, 2022, from 5pm to 8pm for "Educational Surrogate Parent Training." The training will be presented virtually by Florida Diagnostic and Learning Resources System / Northeast Florida Educational Consortium (FDLRS/NEFEC).
FortifyFL is a website and app developed at the direction of the Florida Legislature. Any student, educator, parent or member of the public can report school safety concerns directly to law enforcement and school administrators anonymously and easily through the FortifyFL app or getfortifyfl.com.
The St. Johns County School District will inspire good character and a passion for lifelong learning in all students, creating educated and caring contributors to the world.