News and Events
May 31 Memorial Day – Student/Teacher Holiday

June 10 Last Day for Students
Calculators
Texas Instruments TI-30Xa
Scientific Calculators will be part of the statewide assessments for all 7th and 8th grade math courses. This is an example of the calculator that will be allowed on the FSA test (2019/2020). Other calculators will not be permitted. Cost is about $10. Students are expected to have their own TI-30Xa calculator in class daily.

Schoology Information
Parents,
Landrum has recently begun a pilot program with the Schoology learning management system. Schoology is a secure online program that serves as a central hub for learning. Teachers can create, manage and share information and resources with their students. Students using Schoology can get class assignments, link to readings and guides selected by their teacher, collaborate with classmates, take tests and quizzes, and work on self-paced learning activities. Here at Landrum, all teachers will be posting Daily Board Agendas (DBAs) to ensure all students and parents know what is being taught in the classroom. Parents and students are given login information.
School Hours
Start Time: 7:30
Dismissal: 1:50
Wednesday Dismissal: 12:50
Home Access Center (eSchool Plus+) allows parents to view their child's educational information via a secure, password protected website. Eschool contains vital class information to help students including dates and details of upcoming assignments, projects and test dates. Eschool allows teachers to post files like worksheets, PowerPoints or text files containing important class information. Students will find the information just as important as parents.
HAC information contact Ms. Page Co[email protected]
Cell Phones
Cell phones must be turned off and put away while on campus. Text messages are strictly prohibited. Landrum Middle School will not investigate nor be held responsible for missing or damaged phones. Violation of this policy is considered defiance and could lead to suspension.
This is just a reminder that anyone (parent, guardian, friend, neighbor, aunt, uncle) must have school access to attend an event at Ponte Vedra High School, have lunch with a student and/or attend an awards assembly. If you have not already done so, please complete the School Access Form. The process for approval may take up to 4 weeks, so please fill out the application sooner than later for any guests that would like to have school access. Once the application is approved, school access will be valid for three years.
FAQ for Emergency Order 2021-EO-02 (Spring 2021 Assessments, Promotion, Retention, Graduation, VPK)
The SJCSD Guidance Department has provided an FAQ to answer common questions about Executive Order Number 2021-EO-02 which was recently issued by the Florida Department of Education. The FAQ discusses the impact Executive Order 2021-EO-02 will have on assessments, promotion, retention, graduation, and VPK.
---
High School III Proposed Zoning Plans
With High School III currently under construction and planned to open for the 2022-2023 School Year, St. Johns County School District released Proposed Zoning Plans on March 23rd. These plans will impact a number of current attendance zones.
At this time, the proposal for High School III impacts the current attendance zones and student at Allen D. Nease High School and Bartram Trail High School, Fruit Cove Middle School, Alice B. Landrum Middle School, Liberty Pines Academy, Pacetti Bay Middle School, and Switzerland Point Middle School.
The proposal for West End at Town Center impacts the current attendance zones of Palm Valley Academy and Pine Island Academy. The proposal for River Landing impacts the current attendance zones of Allen D. Nease High School and Ponte Vedra High School.
High School III is located within the Twin Creeks development at 1070 Beachwalk Blvd. Other possible attendance zone changes relate to West End at Town Center and River Landing, both in the Nocatee development.
ESE Parent Advisory Meetings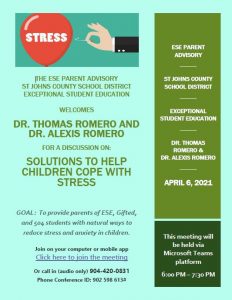 On April 6th from 6:00pm to 7:30pm, the ESE Parent Advisory will welcome Dr. Thomas Romero and Dr. Alexis Romero for a virtual discussion titled "Solutions to Help Children Cope with Stress." Join the meeting online via Microsoft Teams or join via phone by dialing 1-904-420-0831 and then entering the conference ID: 902 598 613#
FortifyFL is a website and app developed at the direction of the Florida Legislature. Any student, educator, parent or member of the public can report school safety concerns directly to law enforcement and school administrators anonymously and easily through the FortifyFL app or getfortifyfl.com.
The St. Johns County School District will inspire good character and a passion for lifelong learning in all students, creating educated and caring contributors to the world.