New for 2023-2024 — Students will now use Clever to access Schoology, Office 365, Online Textbooks, and other Links for Students.
Alice B. Landrum Middle School - Go LIONS!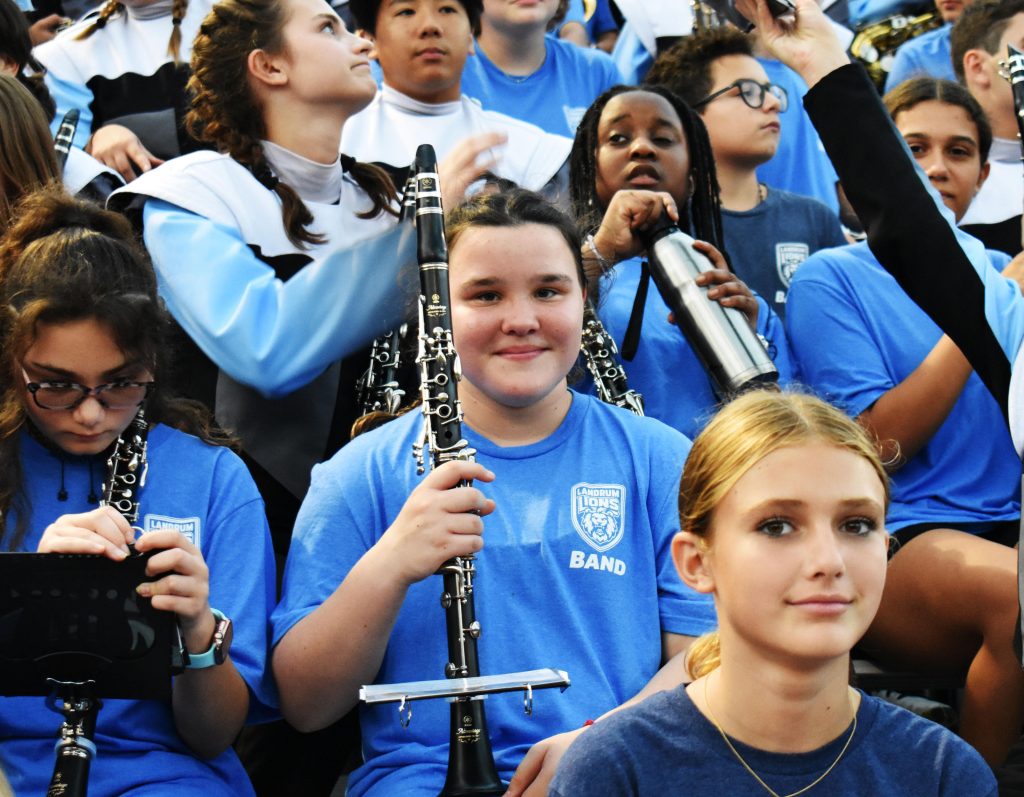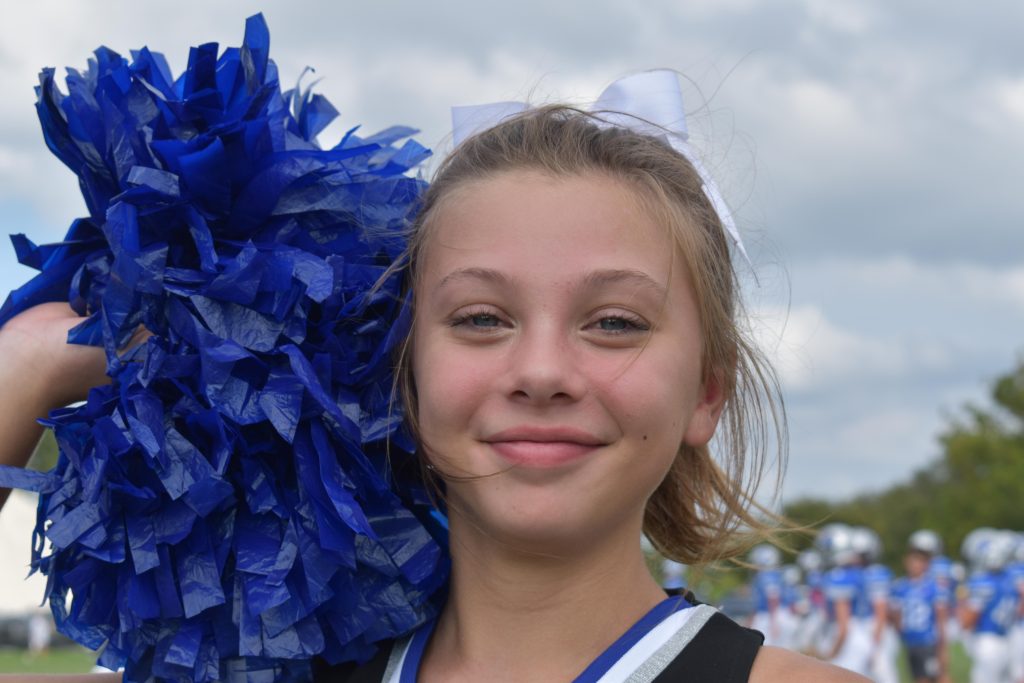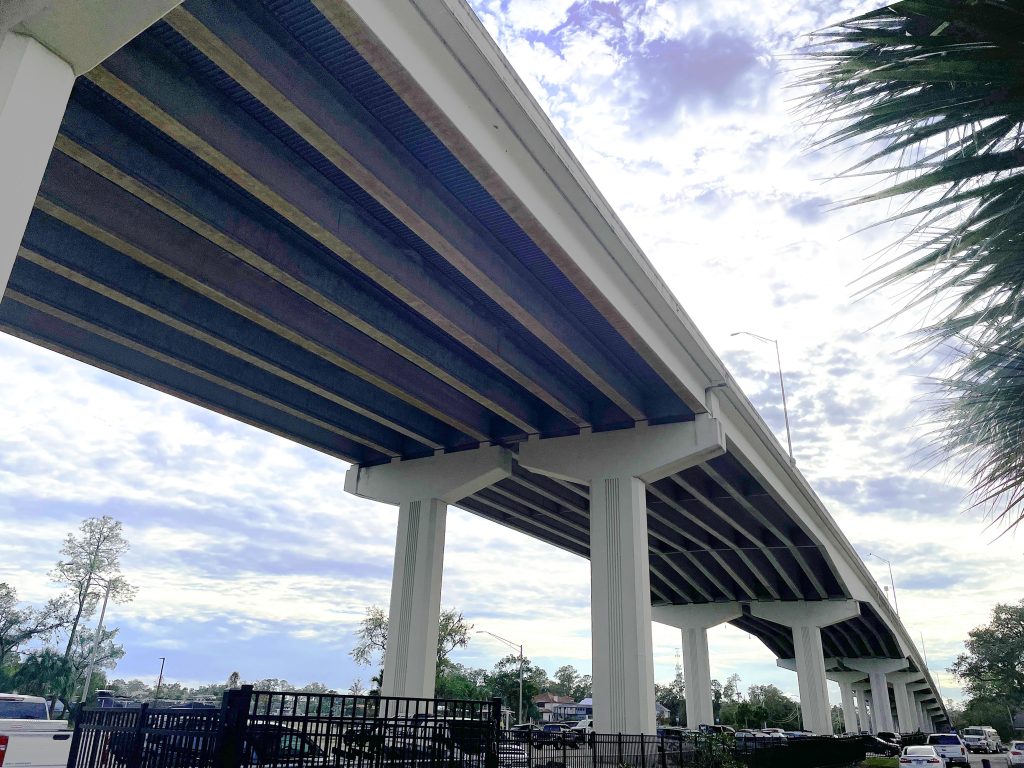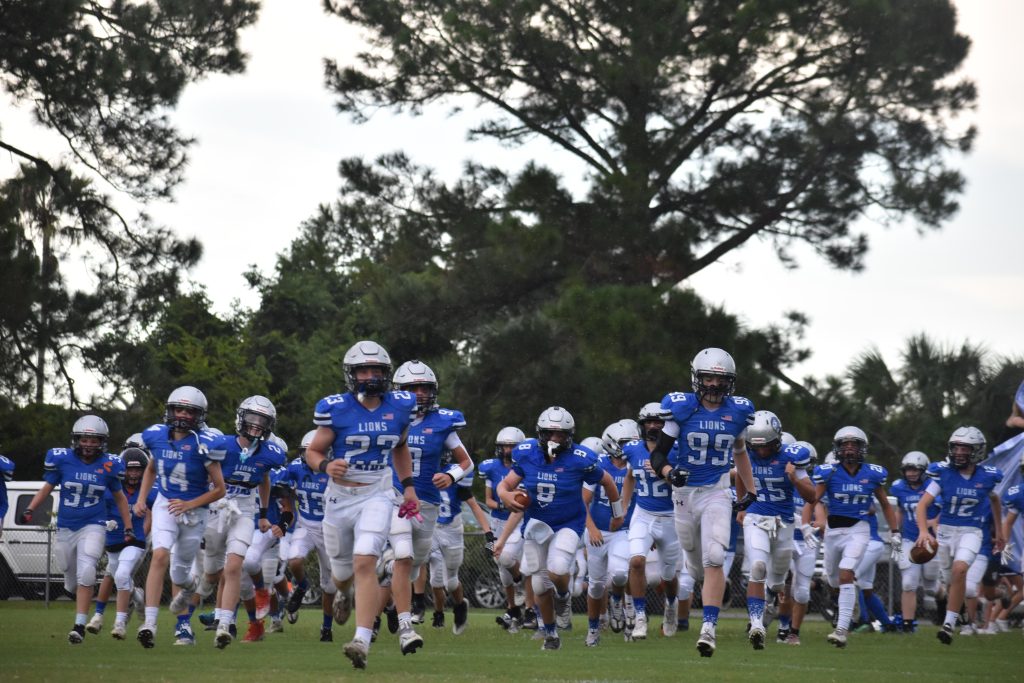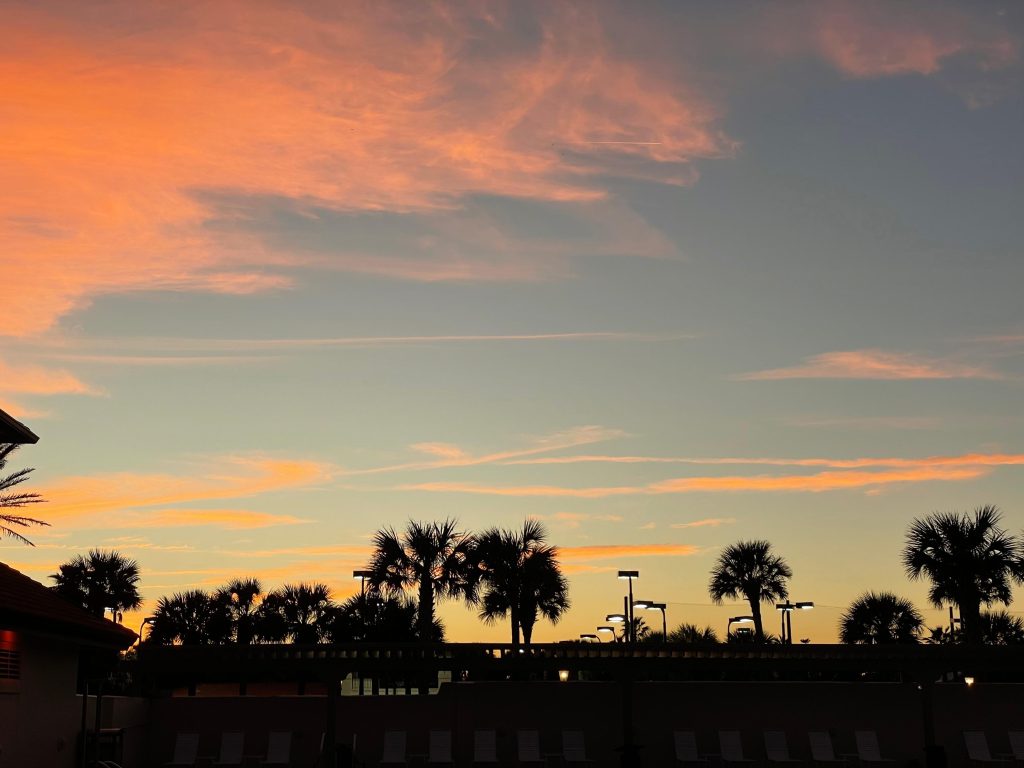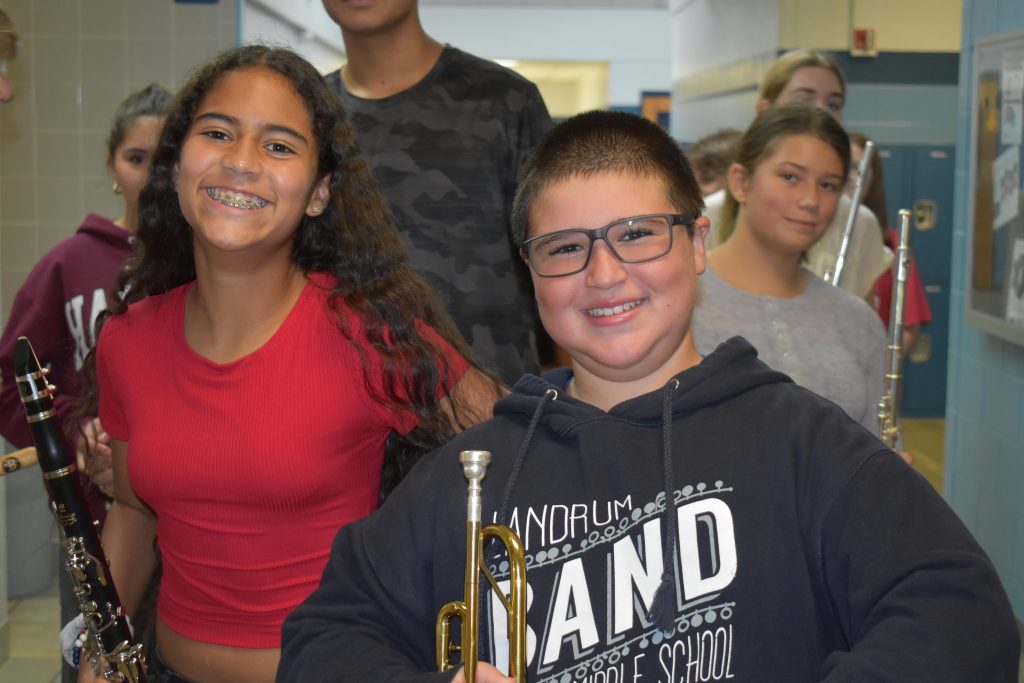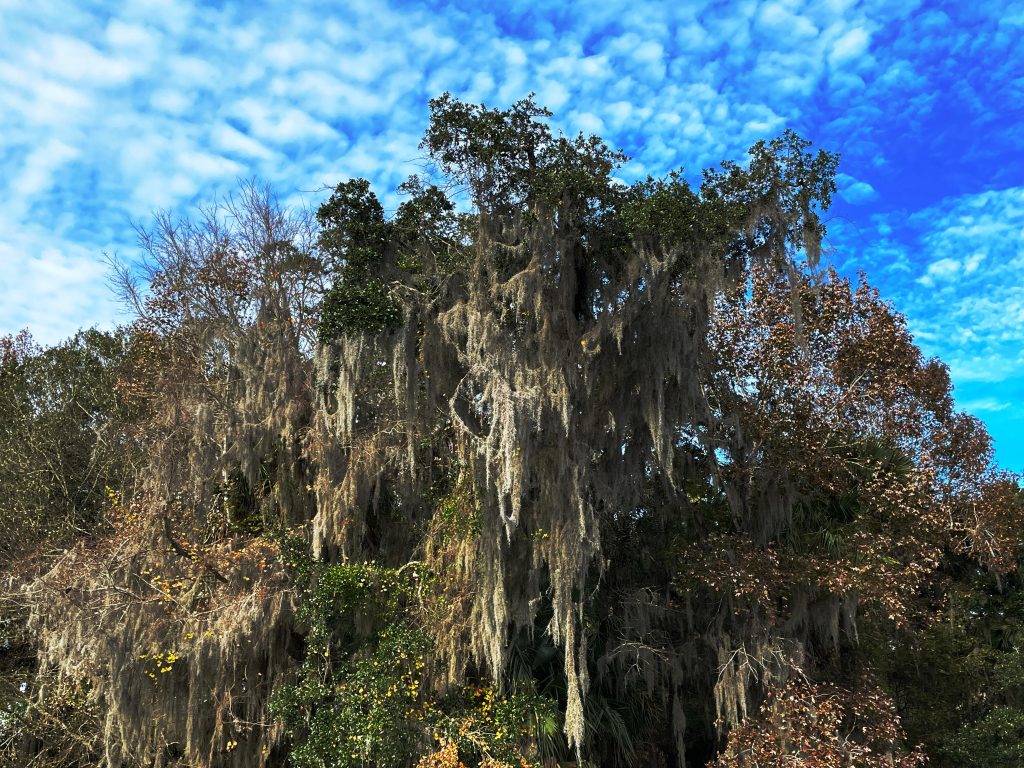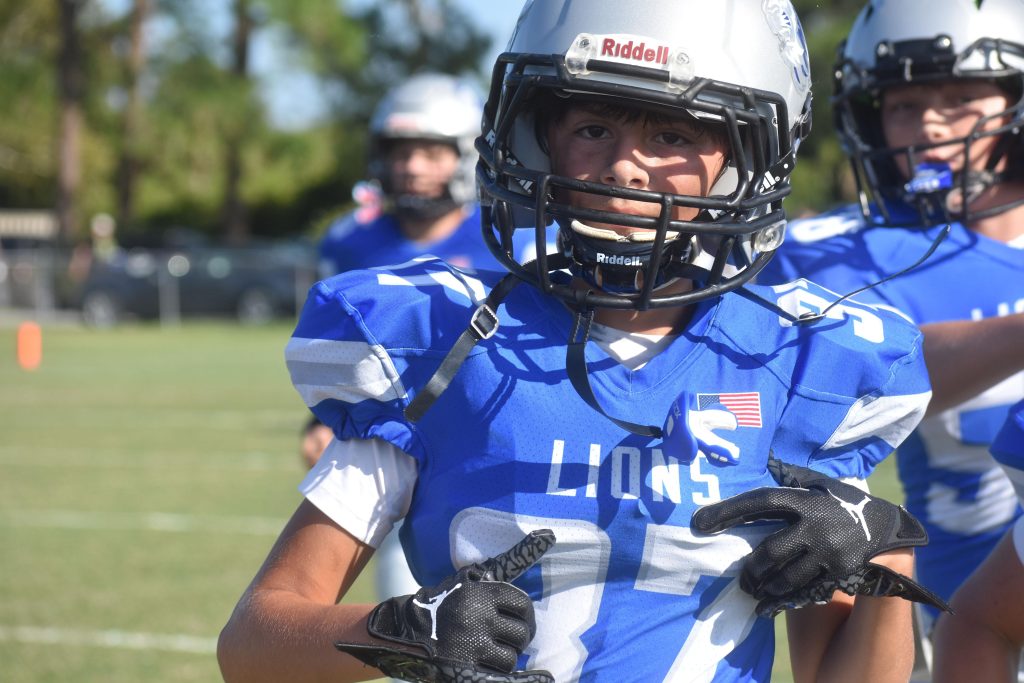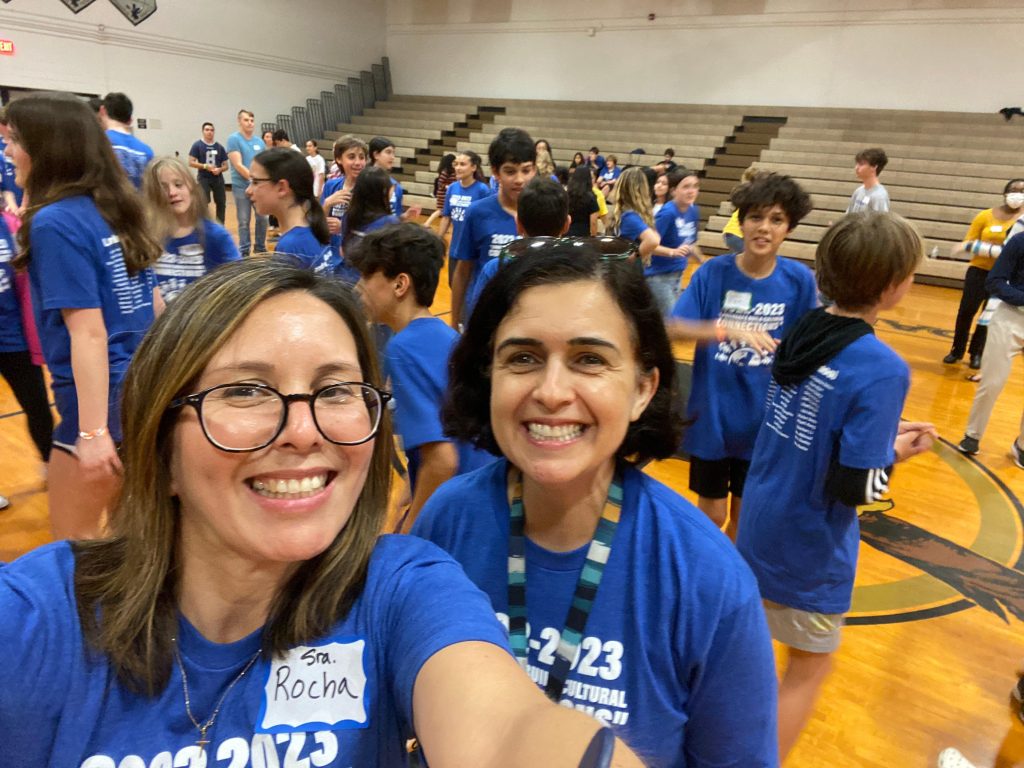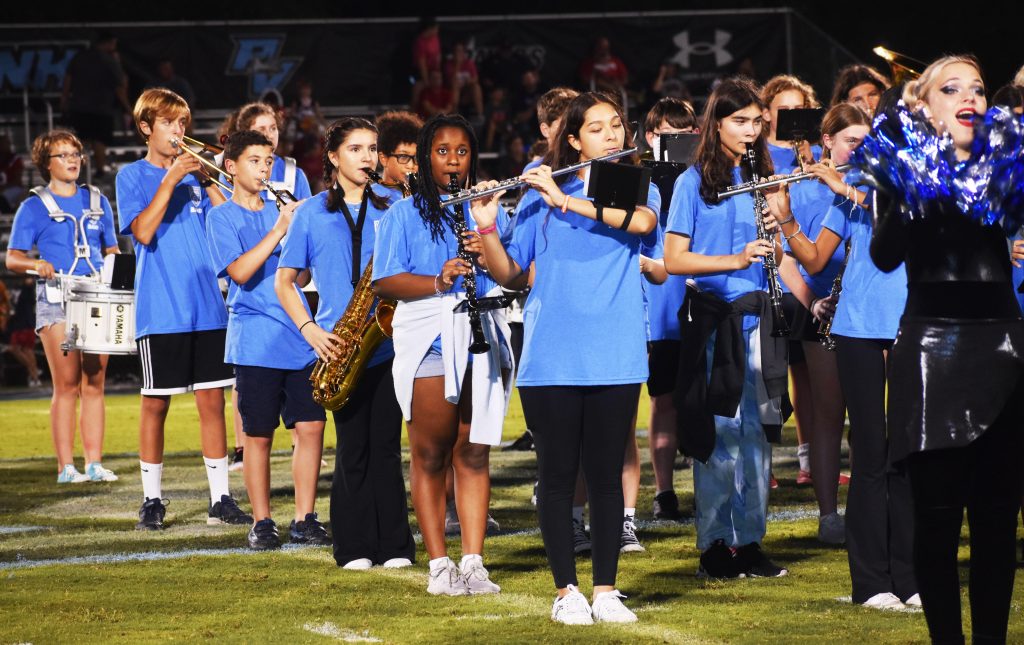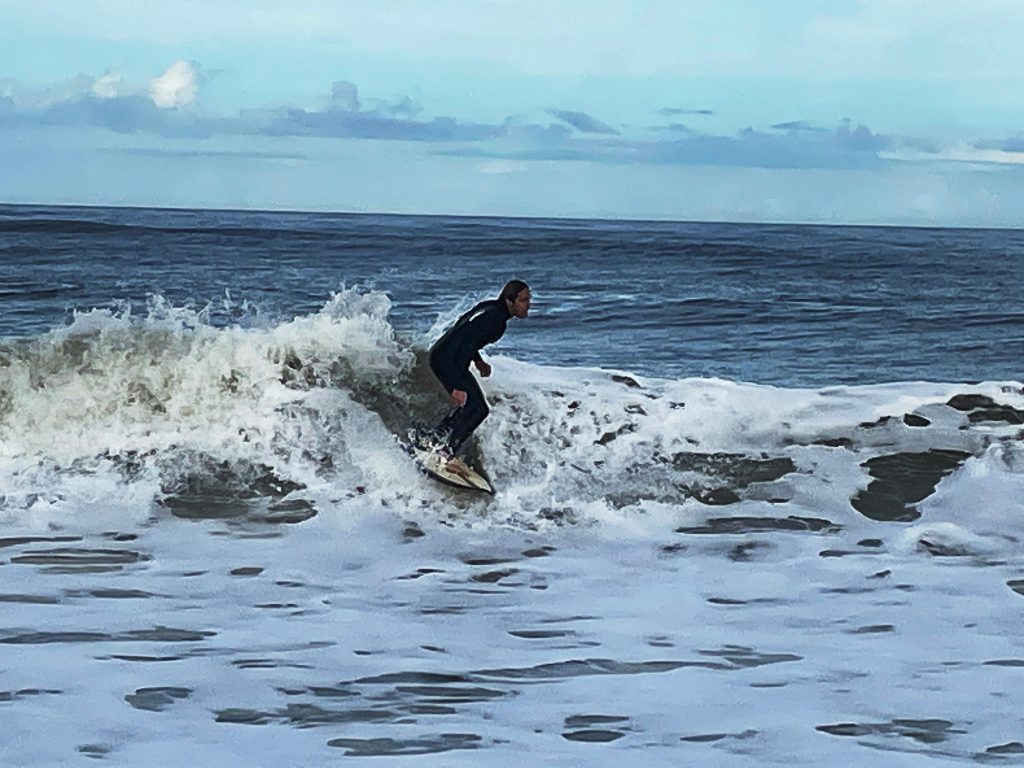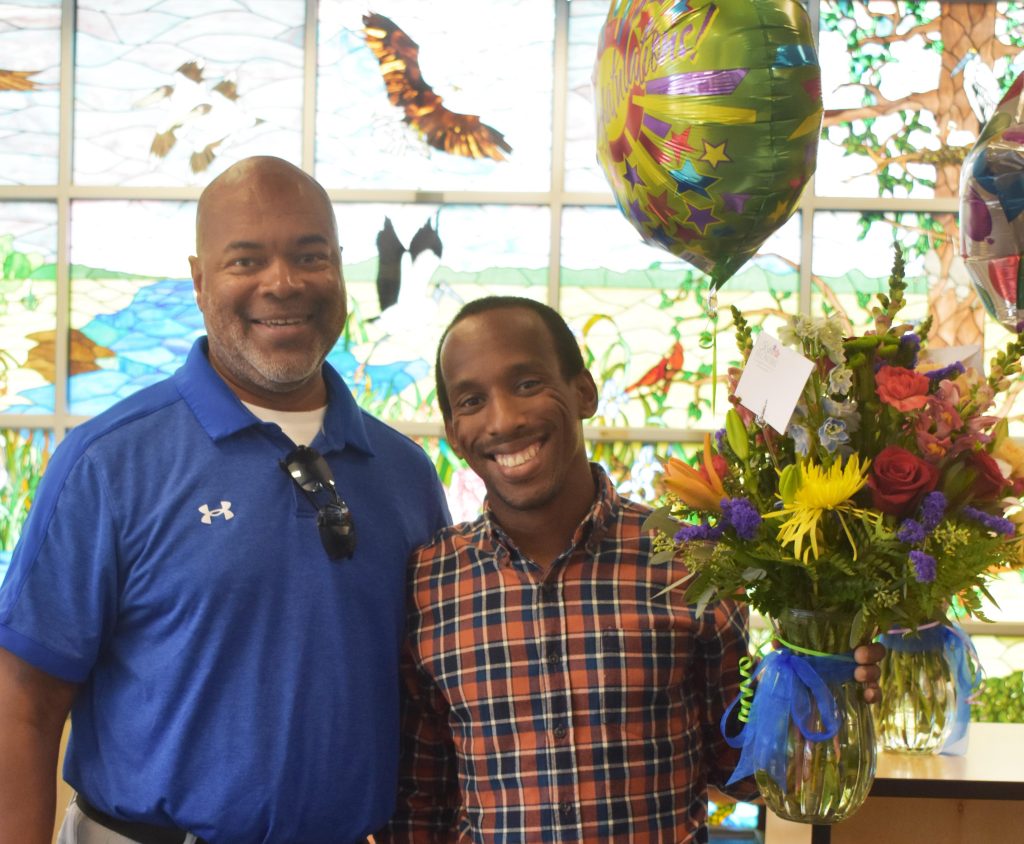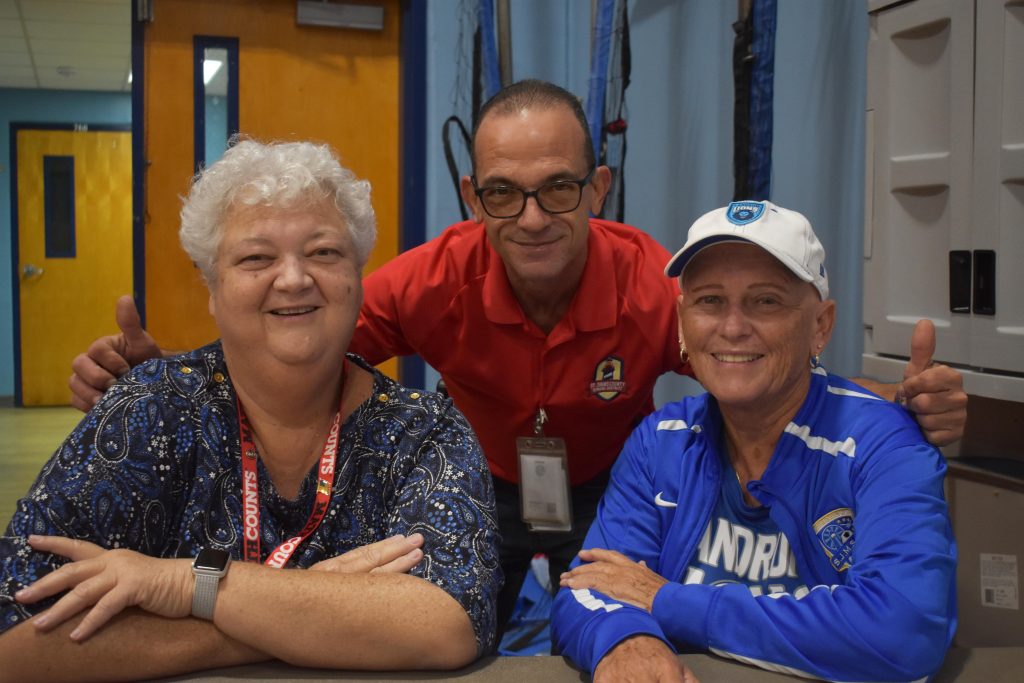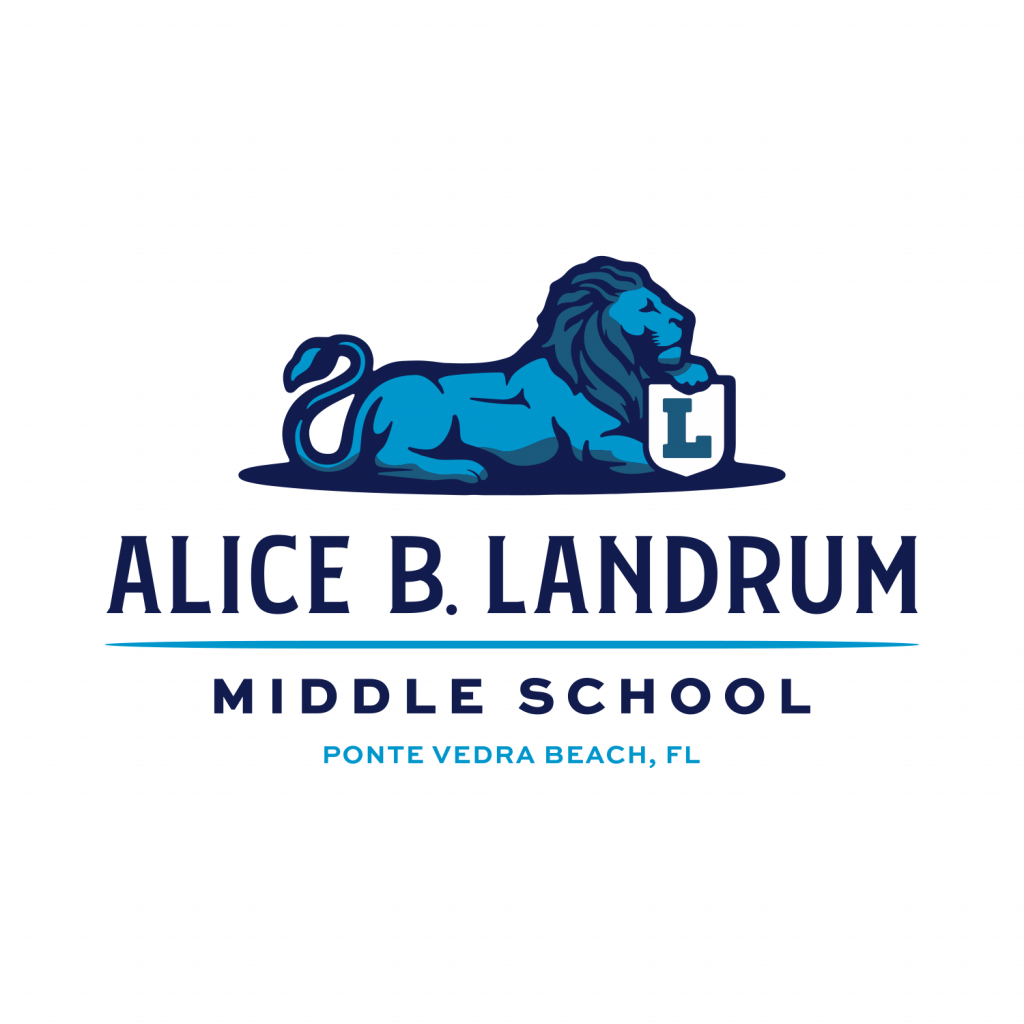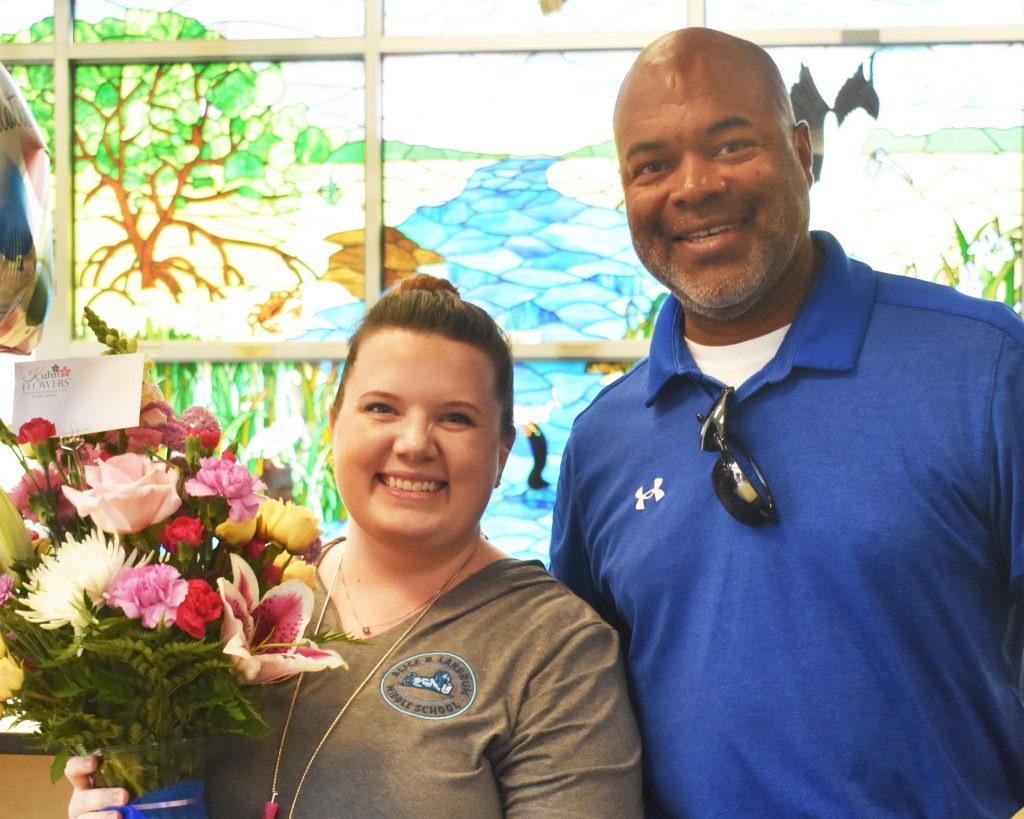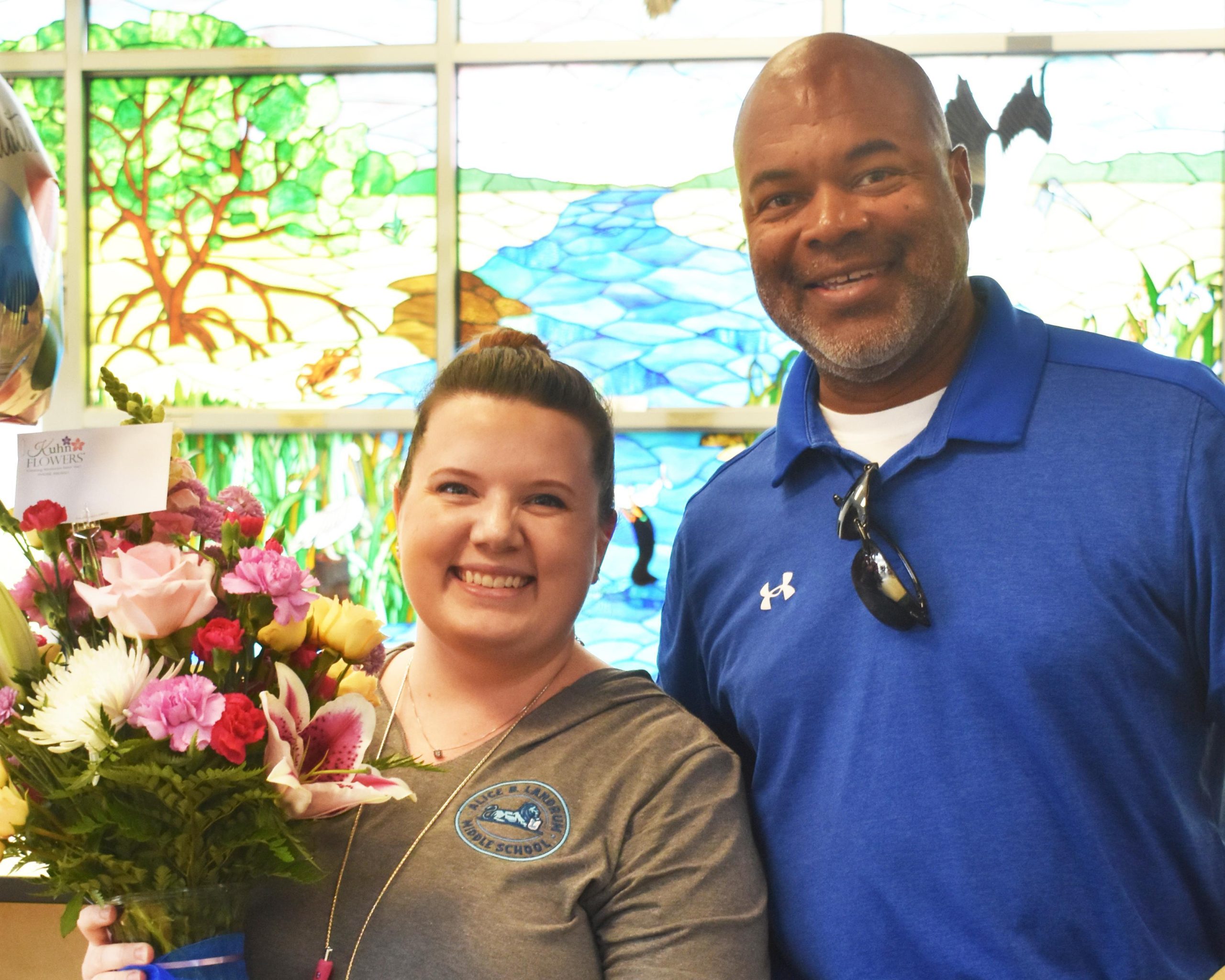 Teacher of the Year 2023-2024
Teacher of the Year is Samantha Gayso, Rookie Teacher of the Year is Kyle Speed, and
Custodian Craig Orzolec as our School Related Employee of the Year.
News and Events
August 9th – Meet the Teacher (More Info)
August 10th – First Day of School
September 4th – Labor Day Holiday
F.A.S.T. Testing
Fall FAST progress monitoring dates:
9/5 -6th grade ELA
9/7-  7th grade ELA
9/8-  8th grade ELA 
9/12- 6th Grade Math
9/15- 7th/8th Grade Math
Calculators
Texas Instruments TI-30Xa
Scientific Calculators will be part of the statewide assessments for all 7th and 8th grade math courses. This is an example of the calculator that will be allowed on the state tests. Other calculators will not be permitted. Cost is about $10. Students are expected to have their own TI-30Xa calculator in class daily.

Schoology Information
Parents,
Landrum has recently begun a pilot program with the Schoology learning management system. Schoology is a secure online program that serves as a central hub for learning. Teachers can create, manage and share information and resources with their students. Students using Schoology can get class assignments, link to readings and guides selected by their teacher, collaborate with classmates, take tests and quizzes, and work on self-paced learning activities. Here at Landrum, all teachers will be posting Daily Board Agendas (DBAs) to ensure all students and parents know what is being taught in the classroom. Parents and students are given login information.
President: Annelee Bailey [email protected]
Vice President: Heidi McLeod
Recording Secretary – Jeannine Feyen
Treasurer: Kara Lenz
Communications: Jennifer Werba
Community Events & Fundraising: Open
Community Partners: Tina Brletich
Hospitality: Tulin Ostfeld
Hospitality: Sarah Ritchie
Member at Large: Debbie Rozen
Member at Large: Caroline Preston
Membership: Julia Hightower
Membership: Catherine Finnemore
New Member Welcome: Kristin Glunt
New Member Welcome: Jennifer Kaltman
Secret Pal: Danielle Frey
Secret Pal: Beth Marino
Spirit Wear: Heather Mandeville
Spirit Wear: Erin Wolf
Website: Judy Manley
Past President: Kristin Glunt
Cell Phones
Students using their cell phone devices/earbuds during the school day has become an issue. Board policy require that all electronic devices be turned off, stored in student's backpack, purse, or locker. The device shall not be used during the school day without administrative approval (classroom teacher) or on school buses to and from school. Electronic devices must remain stored during classroom transitional periods. Failure to comply may result in the device being confiscated. Repeated failure to comply will be considered defiance of school rules.
Mondays: Drama, Speech & Debate
Tuesdays & Thursdays: Cross Country
Tuesday & Thursdays: Band
Tuesdays:  Knit Club
Italian Clubs – Beginning Oct. 10th
Thursdays: The Literary Guild
Friday: Math Counts

8th Grade Boston Trip
March 7-10, 2024 8th Grade Boston Trip Parent meeting planned for September 6th at 5 p.m at the LMS Auditorium. Contact Ms. Pagliughi for more information.
School Hours
Start Time: 7:30
Dismissal: 1:50
Wednesday Dismissal: 12:50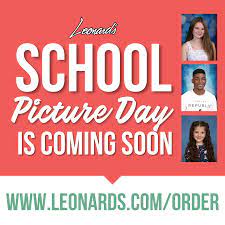 Yearbook photo retakes are November 29th
Students

who missed both picture days can take their photo on Wednesday. If a student's

family purchased a package and there is a flaw in the image they can bring the package with them to retakes and take another.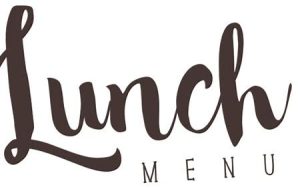 School Breakfast $1.75
School Lunch $3.50
A La Carte menu includes:

Firehouse Subs ($5.50)
Zaxbys: Two Nibblers Sandwiches ($5.50)
Chick-fil-A ($5.75) & Papa Johns ($2.50)
Lori Aliprando, Landrum Cafeteria Manager
904-547-8421
[email protected]
Home Access Center (eSchool Plus+) allows parents to view their child's educational information via a secure, password protected website. Eschool contains vital class information to help students including dates and details of upcoming assignments, projects and test dates. Eschool allows teachers to post files like worksheets, PowerPoints or text files containing important class information. Students will find the information just as important as parents.
HAC information contact
Ms. Moloney
Detailed Information about eSchool
HAC Portal
Attendance
Any student who has been absent from school shall provide a note from a parent or guardian within forty-eight (48) hours of returning to school stating the cause of the absence. If the student missed school due to an appointment, a note from the provider must be turned in within forty-eight (48) hours of returning to school. Failure to provide a note will result in an automatic unexcused absence. Notes can be turned in at the Front Office or emailed to [email protected]
However, the fact that the student provides a note does not require the school administration to excuse the absence. The principal or designee will decide whether the absence meets the criteria for an excused absence, and that decision will be final. 
After fifteen (15) days of absence, whether excused or unexcused, a student must present verification from a licensed doctor for all subsequent absences due to illness.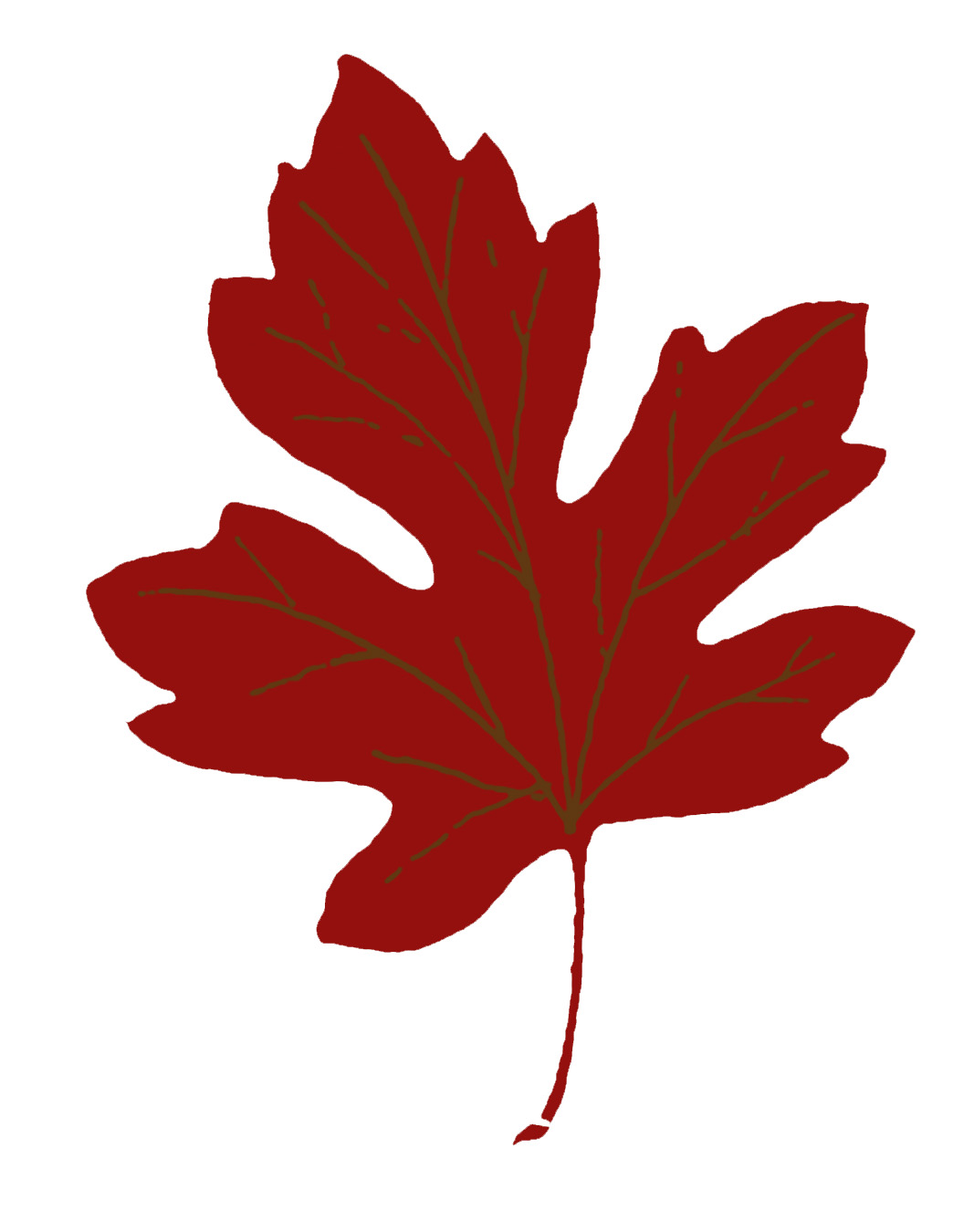 LMS Fall Sports Schedule
GIRLS SOCCER TRYOUTS have been rescheduled for Tuesday 9/5 and Thursday 9/7 from 2:00-3:30 PM. You must register @SJMSAA to participate in tryouts and attend both days of tryouts. Boys Soccer TBD Fall Baseball – Register @ SJMSAA
Tryouts are at the
Landrum Fields 2:30 – 4:30
8th grade Monday August 21
7th grade Tuesday August 22
6th grade Thursday August 24 Cross Country – First practice
2-3 Tuesday, August 22nd Students must have a signed Landrum parent permission form turned in. Volleyball Girls first day will be Tuesday September 5th 2-3:30 and Boys will be Wednesday September 6th 1-2:30
Students need a signed parent permission form turned i n before tryouts.

In an effort to provide safety and security to our students and staff, we check identification for all vendors, visitors, volunteers and parents each time you enter the building. Volunteers must have clearance to enter the building. If you have not already been cleared, please submit a School Access Form. Please input full legal name (first, middle and last) on the application. If you already have clearance, please do not submit an application. Expired accounts will be rerun automatically.
Instructional Materials Adoption Update
The adoption review of Social Studies resources for the St. Johns County School District has ended. Resources that were selected by adoption committees for submission to the School Board for adoption consideration are available online. All selected resources have been approved and adopted by the Florida Department of Education. Updates will be posted when appropriate.
Some print materials may be available for review. If you would like access to the available printed materials or require assistance reviewing the online resources, please call the Instructional Resources and Media Services office at 904.547.3947. Materials are available for review from 8:30 AM - 4:00 PM when district offices are open.
For more information about the textbook adoption process, please visit the Florida Department of Education Instructional Materials web page.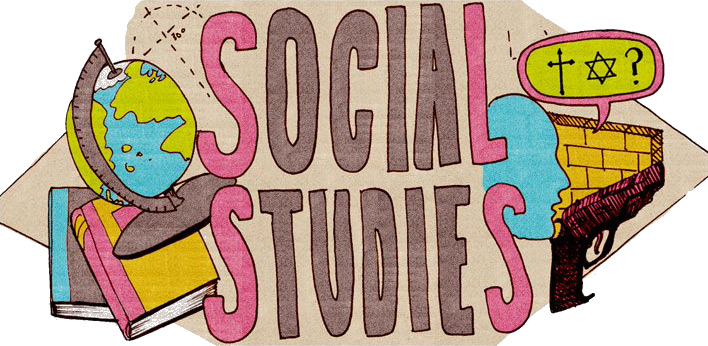 "Strategies Parents and Caregivers Can Implement to Address Anxiety Related Symptoms in Their Students" Online Discussion on December 5
Please join us on December 3, 2023, from 6pm to 7:30pm for a virtual discussion titled "Strategies Parents and Caregivers Can Implement to Address Anxiety Related Symptoms in Their Students." The discussion will be presented by guest speaker Marlena Jenkins.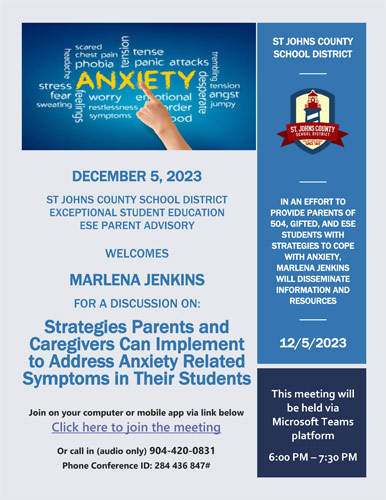 FortifyFL is a website and app developed at the direction of the Florida Legislature. Any student, educator, parent or member of the public can report school safety concerns directly to law enforcement and school administrators anonymously and easily through the FortifyFL app or getfortifyfl.com.
The St. Johns County School District will inspire good character and a passion for lifelong learning in all students, creating educated and caring contributors to the world.
School Hours
Start Time: 7:30
Dismissal: 1:50
Wednesday Dismissal: 12:50